I'm curious if anyone has taken graziani.xxx but I'm afraid to look.
:) Rick
The Internet Corporation for Assigned Names and Numbers has approved a new .xxx domain suffix for adult websites.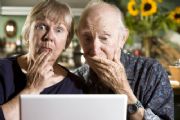 ICANN approved the new suffix, which isn't officially a go yet, at a meeting in San Francisco. According to the draft agreement released by ICANN, the .xxx domain will be a Top Level Domain (like .edu and .com) and will be registered through the Florida-based ICM Registry.
ICANN has been debating on the .xxx domain suffix since 2004, and the issue has been pretty hot. It's not only anti-porn and religious groups who are against the domain suffix; some movers and shakers in the porn industry are also against it.
Anti-pornography groups and religious groups are against the suffix because they feel it will make porn sites more visible and be an endorsement to the adult entertainment industry. People in the industry are against the suffix because of the additional cost of a .xxx domain (they already pay for .com domains), as well as the fear that some countries may block .xxx domains altogether.
Click here for the rest of the story.